Banks strongrooms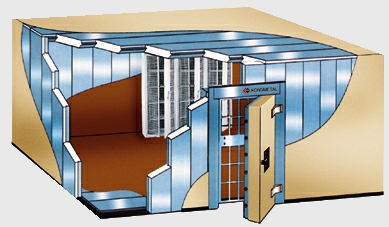 Strongrooms offered by our company are production KONSMETAL S.A.

We supply strongrooms in VI, IX and XI grade and special rooms in IV and V grade resistance to burglary. Modular construction the walls, ceiling and floor, enabling efficiently mounted in difficult spaces. Active reinforcement treasury protects against diamond tools.


Strongroom in class XI should be built where the size of the stored monetary value does not exceed 60 units of account overall for areas not protected by an alarm system and without limitations for protected rooms by an alarm system class minimum.


Module treasury is executed as a chamber of modular elements SM 80, SM 170 or SM 220 connected with a treasury door.

Closing the treasury door are:
- Two key locks class C and one combination lock class C
- Mechanisms are protected against punching locks and point attack.
- Additionally the possibility of installing electronic lock with access control

In standard door are equipped with a handle and grip on both sides which allows you to open them from the inside.
Modular strongroom

Model name

Resistance class

Wall thickness (mm)

Weight 1 m2 (kg.)

SM 80/IV, V, VI

IV, V, VI

80

290

SM 80/IV, V, VI

IX

170

490

SM 220/XI

XI

220

630
Treasury doors

Type door
Resistance class
Armor thickness (mm)
Weight (kg.)

DSK - 80/IV

IV, V, VI

80

1000

DSK - 15/IX

IX

170

1900

DSK - 19/XI

XI

220

2300

Emergency hatch is installed as an additional device providing access to the chamber treasury. WAL hatch is designed for installation in the treasury cast, while the WAM hatch is designed for installation in all types of modular treasures produced by KONSMETAL.

Closing hatch
- Two key locks class C and one combination lock class C

Lock dial and handles can be removed, you can unscrew the hinges when you close the hatch. The hatch after installation can be masked. You can adjust the thickness of hatch WAL frame to the existing treasury cast.
- Products are certified by the Institute of Precision Mechanics.
- We provide 24-hour guarantee service and after sales service.