The hotel's set of safe deposit boxes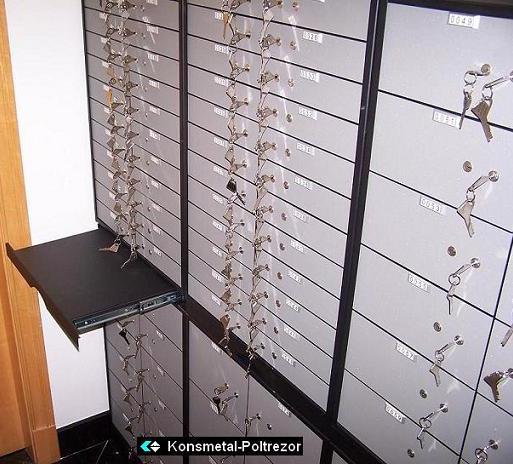 Example model's of deposit boxes

SD 6S - K

Stainless Steel

SD 24M - KK

Painted

Cassette for SD 24

Cassette for SD 12

SD Safe deposit lockers are used to store in the areas bank and hotel receptions items requiring special protection:
- valuables
- securities
- objects of art
- manufactured in a modular system with dimensions 920 x 635 x 430 mm / H x W x D. / having from 2 to 24 lockers
- different sizes of lockers allows you to optimize the configuration of the set.
- every module is made of sheet steel with a thickness of 2 mm. lockers doors are made of steel with a thickness of 3 mm.
- lockers module can be placed directly on the floor or on a pedestal for convenient use of lockers lowest located.
- box can be set in the column on the two modules. Between the modules can be placed retractable table.
- doors have a strong internal hinges.
- closed with key locks - lock has two different keys (interdependent lock). User have one key and second key have a person who has custody on lockers.
- inside the locker / depending on model / are removable cassette.
- standard performance:
- doors painted in aluminum (symbol M) or covered with stainless steel (symbol S)
- body powder painted in black RAL 9005.
- on the special order locker can be in other colors
Module

Number of lockers (pcs.)

Locker height (mm.)

SD 24

24

72

SD 12

12

146

SD 8

8

220

SD 6

6

294

SD 4

4

442

SD 2

2

886