OFFICE SAFES GRADE II
---
Safes SG STANDARD
| | |
| --- | --- |
| Safe SG 120-K | Safe SG 150-K |

This modern product is the result of many years of experience and research, including host of innovative features. Safes' bodies are multi-layer structure. The door is also a multi-layer construction, with inner rib-like reinforcement, locking system blocked at four edges, four bolts side and two vertical with a diameter of 28 mm. From the hinge side there is a fixed bolt over the entire height of the door, preventing from broken away door after the destruction of the hinges. The bolt system is equipped with the blockade that activate with attempt of burglary. Bolting system is locked with key lock grade A as standard. There a possibility of changing into electronic or mechanical combination lock or mounting any two locks.

Locks are protected with a cover made of steel of the highest quality

There is possibility of attaching safes to the floor

Safes are fully protected against corrosion and are painted in light grey no 7035 or black no 9005

The interior of the safe is protected from dust, water and fire using the sealing system, which uses material enhances eight volume at high temperature.


Types of locks (possibility choice of one or two selected);
K - key lock, class A, 2 keys L 120mm
S - combination mechanical lock, class A
E - electronic lock, class B

Safes are equipped with shelves with adjustable height as a standard

Warranty 24 months

Additional equipment: internal safe, bolts position sensor, shock detector, alarm installation
Name

Dimensions external


(mm.)

Dimensions internal


(mm.)
Weight kg.
Number of shelves
H
w
D
H
W
D
Safe SG 62

620

580

570

465

460

390

172

1

Safe SG100

1000

257

2

Safe SG120

1200

297

3

Safe SG150

1500

388

4

Safe SG180

1800

442
Buy now SG STANDARD

Types of closures used in safes SG
| | | | |
| --- | --- | --- | --- |
| key lock | key lock + electronic lock | key lock + combination lock | electronic lock |
---
Safes SG PREMIUM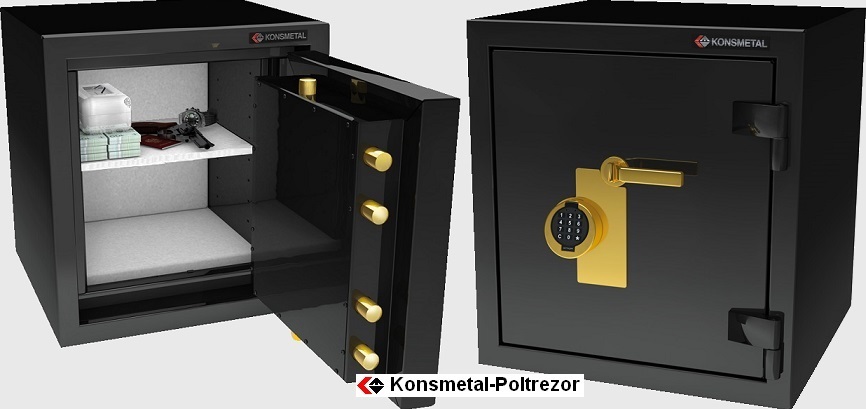 SG GOLD 62
| | |
| --- | --- |
| SG CHROM 62 | SG CHROM 120 |
Buy now SG GOLD Buy now SG CHROM
---
SAFES SG STRONG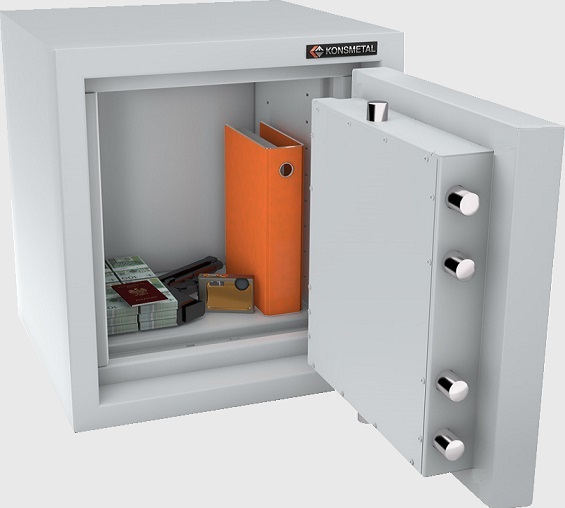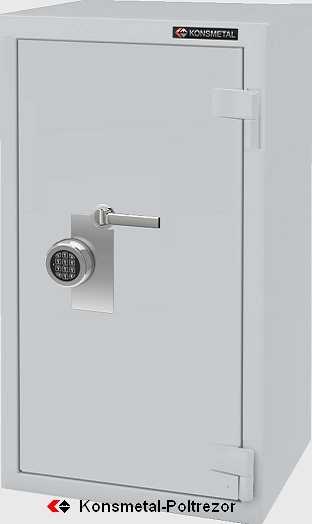 SG STRONG 62 SG STRONG 100
| | |
| --- | --- |
| SG STRONG 120 | SG STRONG 150 |
Buy now SG STRONG
In addition to the above-described SG safes, we present our most powerful office safes, SG STRONG and SG PREMIUM, made in class II in accordance with the PN-EN 1143-1 standard for storage.

Certificate of the Precision Mechanics Institute


They are characterized by a subtle combination of high-quality constructions with the best anti-burglar protection.


SG cabinet safe is dedicated to storing cash, securities, documents, weapons and other valuable items.


Overall dimensions of STRONG and PREMIUM safes are the same as SG STANDARD safes presented above. Internal dimensions, due to different equipment, differ slightly depending on the model.


SG STRONG safes are closed with a class B electronic lock with keyboard and a chrome-colored plate, they are painted with powder paints in light gray RAL 7035 and black RAL 9005.


SG premium cabinet safes have the strongest multi-layered construction for class II with a special filling, which in turn effectively prevents breaking into the safe using a grinder and crowbar.


They used a unique stylization package:


visible elements related to the closing of the safe; lock keypad with sign, handle and movable bolts in chrome or gold

Konsmetal SG premium safes have a high-gloss paint coating. They are produced in three standard colors; black RAL 9005, white RAL 9003 and red RAL 3020, it is possible to make each color with a specific number from the RAL color palette.


the interior of the safe finished with a soft flocked fabric,


Four-sided door locking system (bolts with 30 mm diameter in chrome or gold (gold marking) horizontal, vertical and fixed bolt).


A modern system securing the lock against attempting to drill it


Body thickness of 80 mm, door thickness of 143 mm


High quality Class B electronic lock


Possibility to insure the contents of the safe up to the equivalent of 180 average national salaries.